Hey everyone so it's been a while since I've blogged but I really should do an end of year post of the best things of 2016…it hasn't been a great year for the world BUT GOOD THINGS DID HAPPEN!

Whether it's politics, violence, celebrity deaths or the GBBO being moved to Channel 4…
So here's my little list of things that made me happy in 2016: Not everything I read/watched came out in 2016

Books:
Six of Crows and Crooked Kingdom by Leigh Bardugo- This duology is everything. It will ruin your life but you will be happy about it…PLUS I GOT TO MEET LEIGH BARDUGO THIS YEAR!!!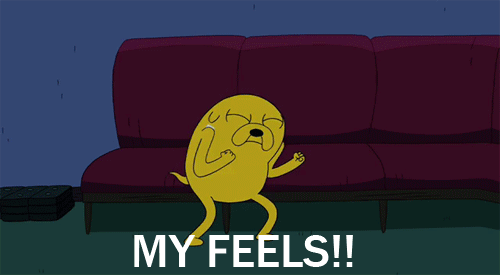 Born on a Tuesday by Elnathan John- This book is so beautifully written and incredibly heartbreaking and the end you're just like???

Remembrance by Meg Cabot- THE HIGHLY ANTICIPATED 7TH MEDIATOR NOVEL WAS AWESOME. it was so nice to revisit old friends and omg the wedding was perf and urgh it was just a lovely read.

Sofia Khan is Not Obliged by Ayisha Malik – amazing to read a book about a hijabi Muslim woman living in London and working in publishing and trying to find a guy lol…awkwardness ensues. it's full of laughs and cringey moments tbh but it's a great read and I'm really excited about the sequel next year!

The Lumatere Chronicles by Melina Marchetta- finally finished this amazing trilogy. I will hopefully be doing a post on why you should read this soon! But if you love fantasy then YOU NEED TO READ THIS!
Adulthood is a Myth: A 'Sarah's Scribbles' Collection by Sarah Anderson – I love Sarah's comics and so for my birthday I decided to treat myself to her book since I am in denial that I am in fact an actual ADULT lol.

The Good Immigrant edited by Nikesh Shukla (Non-Fiction) – The is a timely book on what it's like being an immigrant in the UK from a range of amazing artists! A MUST READ FOR EVERYONE ESPECIALLY WHITE PEOPLE! Full review coming soon!
Reasons to Stay Alive by Matt Haig (Non-Fiction)-  This is a book about depression. An important book that everyone should read as it gives you perspective on what depression is like and how sometimes IT JUST CAN'T BE EXPLAINED and also has some awesome quotes in it and life advice!


Movies:
Deadpool- one of the funniest movies I've seen. even better than Guardians of the Galaxy tbh

Moana- I am so so so happy with this because they consulted anthropologists for the movie and Lin-Manuel Miranda did the soundtrack and Moana is adorable and I just love everything about this movie. Plus I love the ocean.

ALSO BABY MOANA IS THE CUTEST THING
Zootopia– wow this is a children's movie that dealt with racism and i just loved it. really funny and just a great movie.

Masaan– independent Bollywood movie that dealt with various themes from untouchability to sex etc.

Omar–   this was such a heartbreaking movie about being in love in Palestine and how the israelis really make their lives miserable 
TV
Brooklyn Nine-Nine – everything about this show is perf. It manages to be funny without being racist/homophobic etc and it has a diverse cast and it's just so a feel good show. Also now I only say 'noice' thanks to b99.

Stranger Things – the kids are adorbs and Nancy slays and it wasn't as creepy as I thought it would be!

Reign – Mary and Francis are too cute plus the outfits are amazing…this show is not exactly historically accurate but it's just fun to watch and so damn emotional smh

iZombie – I love this show. It's about a doctor who becomes a zombie and ends up working at the morgue and helps solve murders by eating the brains of the victim so she gets their memories etc. It's really funny and perfect for fans of Veronica Mars!

Firefly – THIS IS SUCH A GREAT SHOW AND I AM SO UPSET IT ONLY HAD ONE SEASON BUT THE MOVE SERENITY WAS ALSO AMAZING AND I WILL NEVER BE SATISFIED BECAUSE MAL AND INARA NEVER BECAME A THING.

Gilmore Girls: A Year in the Life-  was a letdown tbh WITH THAT DAMN ENDING and also Rory just was unacceptable. Luke and Lorelai were super cute and EMILY GILMORE WAS AMAZING but sad we didn't get to see more of Lane!!! Rory x Logan 5ever SORRY NOT SORRY

Planet Earth II – Sir David Attenborough is a national treasure and I love love love learning about the earth and nature and ANIMALS!!!

Other stuff:
Hamilton – truly a blessing. If you don't know what it is you clearly have been living under a rock or just don't care. but it is a Broadway musical about the life of Alexander Hamilton one of the lesser known founding fathers of America. sounds boring right? BUT WAIT…the cast is diverse, and the music is everything. how to become a fan: listen to the soundtrack while reading the lyrics and you will be hooked. my fave songs: My Shot, The Schuyler Sisters, Helpless, Satisfied, Non-Stop, Wait For It, Take a Break, Burn, It's Quiet Uptown and many more.
Finally went on holiday to Turkey and it was magnified end getting to read and relax on the beach and swim and be my true mermaid self again. Dalyan is one of my fave places.

Made some new friends…making friends after school is really hard but Alhamdulilah I have had some random opportunities to meet new people and make new friends so yay for that.

Dealt with my anxiety by going to the doctor and group therapy and now i have to use the methods i learn and put them in practice…easier said than done.

Baking- did a lot of baking and learn new techniques and improved my piping etc. don't forge to check out my baking account on Instagram for pics and also my Instagram stories!
A lot to be grateful for despite the horrendous year it has been what with all the death and violence and war and suffering and political turmoil *ahem* Brexit and US presidential election
Some pics of the Floofs
So I have been meaning to write a post about the death of my cat Neo, but it has been too emotional so hopefully I will post it soon. Well, we did get two other cats and they have truly been a gift and blessing and have made life a bit more bearable. Alhamdulilah for cats.
here are some pictures of them being goons: IT IS SO WEIRD THAT THEY ARE BROTHERS EVEN THOUGH THEY LOOK COMPLETELY DIFFERENT!

This is Oscar
This is Toto
Also, this guy made an incredible rap about his cat having a bath.
Despite everything, I am proud of you guys for surviving 2016 and I hope and pray that 2017 is better.
Thanks for reading and following my blog!
All the best
Happy Reading!
Juwi
xoxo
PEACE. LOVE. BOOKS. =D
"The pages I've consumed since I first started to read, through today, have become essential to me, building and changing and rearranging all the parts of me at different times in my life." — Nadia Hashimi
"I'm not everything I want to be, but I'm more than I was, and I'm still learning." — Charlotte Eriksson